Hybriden is a combined comic shop/webshop/exhibition space/artist studio/zine distro/comics library, run by the cultural associations/non-profit publishers CBK and Tusen Serier.
We used to be at Mitt Möllan in Malmö between 2016-2020, but have since then moved out. Hopefully we'll turn up again in a new place on the other side of the pandemic. Until then, we still have our webshop for books/prints/zines and for our digital exhibitions.
We exhibit comics-related (and sometimes other) art (READ MORE HERE).
In the shop and webshop you can find:
-comics published by Tusen Serier, CBK and Wormgod.
-zines from the zine distro Fosfor.
-comics, books and prints that we've found at different international comics festivals, or that is published by our friends in other countries, such as Slovenian Stripburger, French Le Garage L, Serbian Novo Doba and lots of other stuff, for example from Finland, Portugal, Spain etc.
In our comics library we have a small but interesting collection of comics from different parts of the world. Part of the library is currently available at Fanzineverkstaden, where members can drop by, sit down and have a read. You are guaranteed to find something you haven't seen before.
Hybriden is also a larger structure with many parts and connections to other parts of the Malmö comics scene. This is our attempt to give an overview: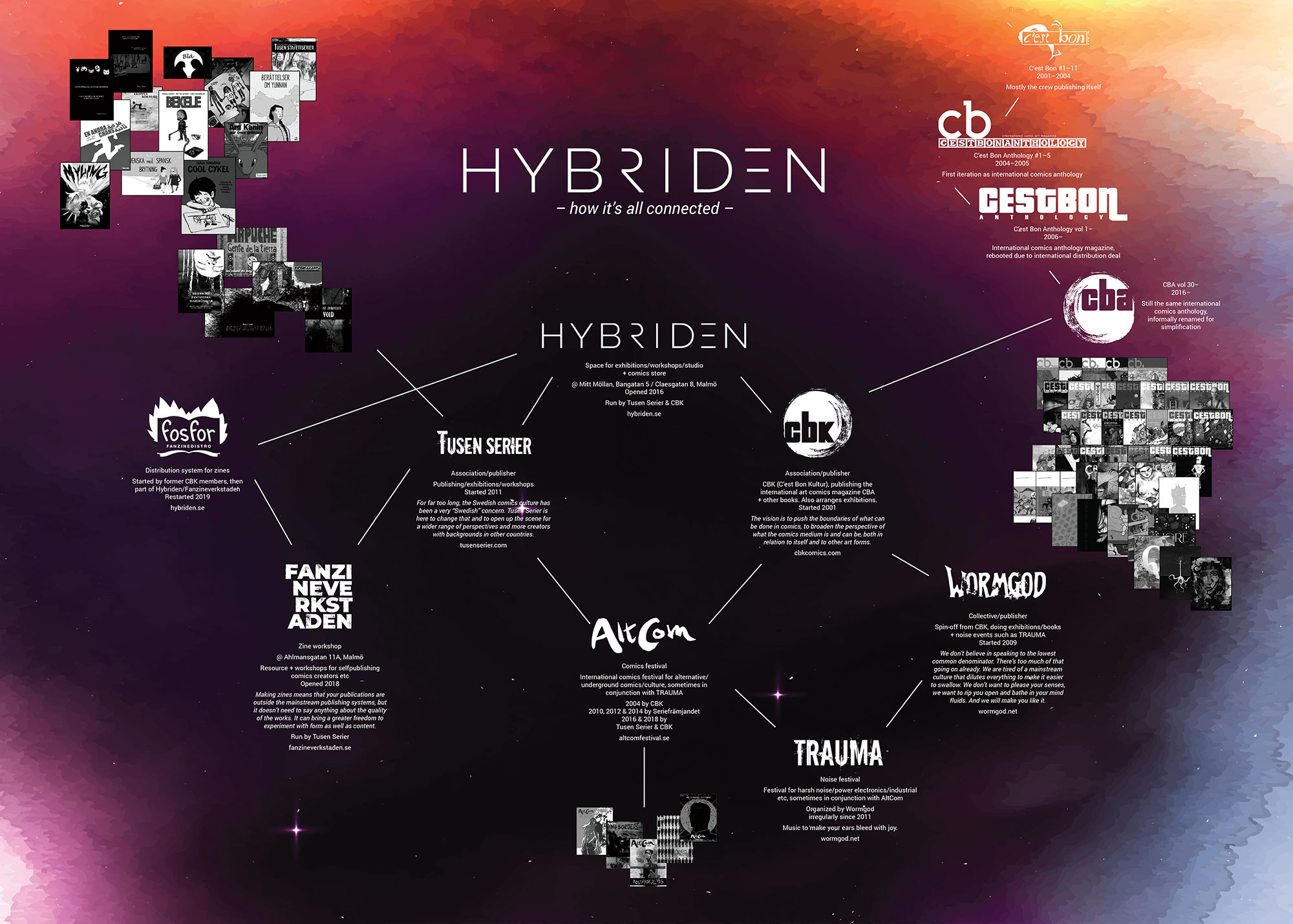 Tusen Serier started in 2011 with the aim of opening up the Swedish comics culture for more creators and readers with international backgrounds. There's a lot of interesting comics that wouldn't be seen in the segregated Swedish culture. Tusen Serier exists to make a difference, through workshops, exhibitions and publishing.
www.tusenserier.org
CBK has been around since 2001 and is working for a more varied and interesting comics culture in Sweden and internationally. Besides publishing the international comics anthology CBA, CBK organizes exhibitions, publishes graphic novels and works with other comics related events.
www.cbkcomics.com
Hybriden is also home base to the comics festival AltCom and the art and comics collective Wormgod.